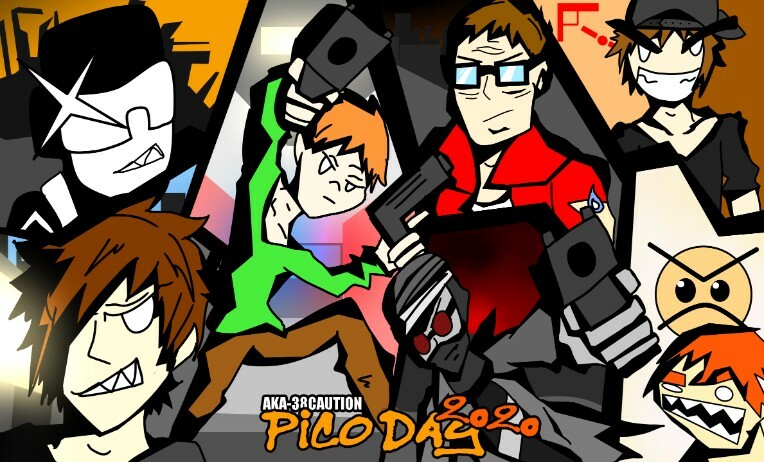 Today is the yearly #picoday2020 and actually my first time doing Newgrounds event that I can actually do and honestly I like doing these type of event that allow me to be more creative. Before the drawing, I did carefully study some character and even play/watch one of them (I mostly recognized Madness since I done couple drawing of Hank before). I also decide to put iconic character/my favorite summation into one artwork instead of doing just one character.
@TomFulp as by far the hardest to do since there too many version of him (You got JohnnyUtah version, K-FED, and many more) so I did serval attempt and this is result. For some reason, his eye are somewhat familiar to Pico eyes.
The Tankman I did was inspiring by @Snackers "NEWGROUNDS VS. THE WORLD"
The Scoot the Burbs (on bottom-right) was added at last minutes because I forgot to add him during the sketching part. Still love the animation. Of course, I also added @Meatcanyon version of Hank Hill from "That Boy ain't right", one of my top favorite animation this year. @RealFaction is also in this one as he done some of greatest song in NG.
Last but not least is Pico and Hank from Madness (also Angry Fiac). Madness is actually my favorite Newgrounds animation at all time; the fast-pace action and overloaded violent, it very intense series and I like it that way. I can't wait to see new Madness animation coming soon.
Pico on other hand, I do see him everywhere on Newgrounds back then (even used him as rating system instead of Tankman; what we got now), and fact that he is iconic character, of course I would draw him. The game is very edgy but I do like how satire and political incorrect the game was (The soundtrack was good too, even the old version where Tom used Ultrasonic Sound by Hive, though I do also love the RealFaction soundtrack of Pico school as well).
I do see other Pico day fanart and all of them are actually great. Right now, I currently witness this art known as "pico day collab 2020" by @Wandaboy (and other 7 animator and couple of voice actor and artist) as well as @ninjamuffin99 who do the music. It totally the best, go check it out. (totally not a shoutout).
How is Pico day going for you?